In recognition of all the amazing ways in which local people have been helping and supporting others in the community, we have introduced the WOW awards – for those who have been Walking On Water, thinking only of others. And we are seeking your nominations.
It shouldn't come as a surprise that the very first WOW was awarded to the Rushlake Green Village Stores.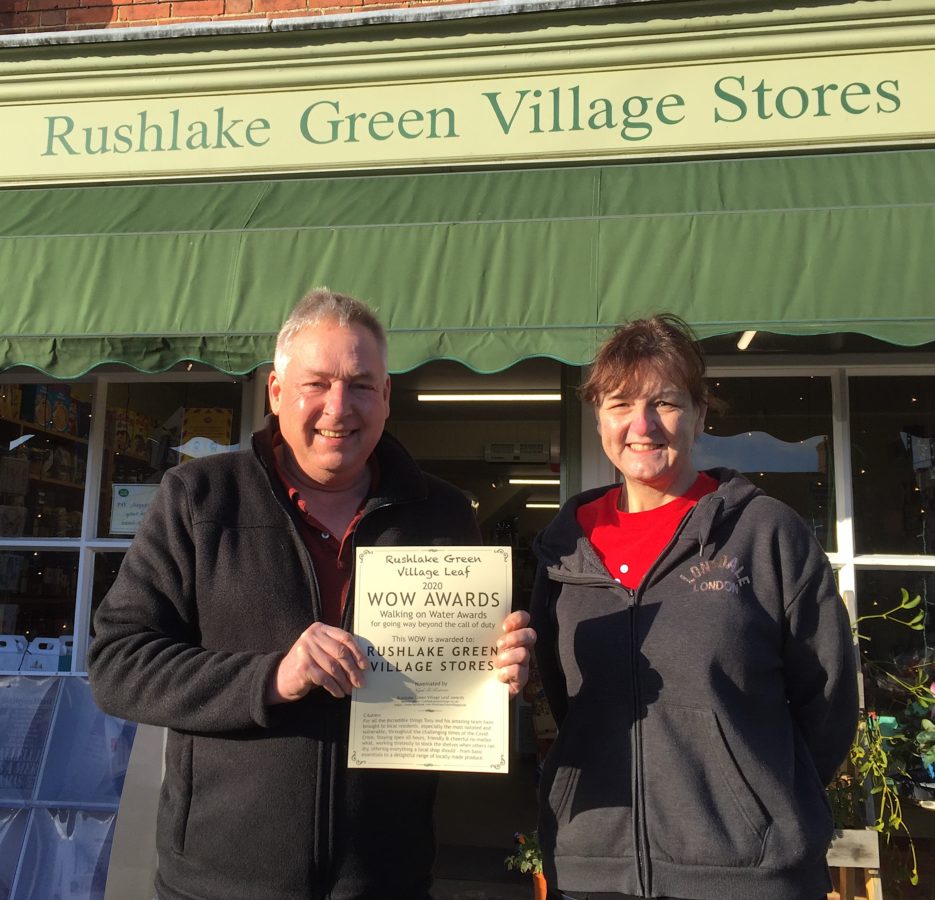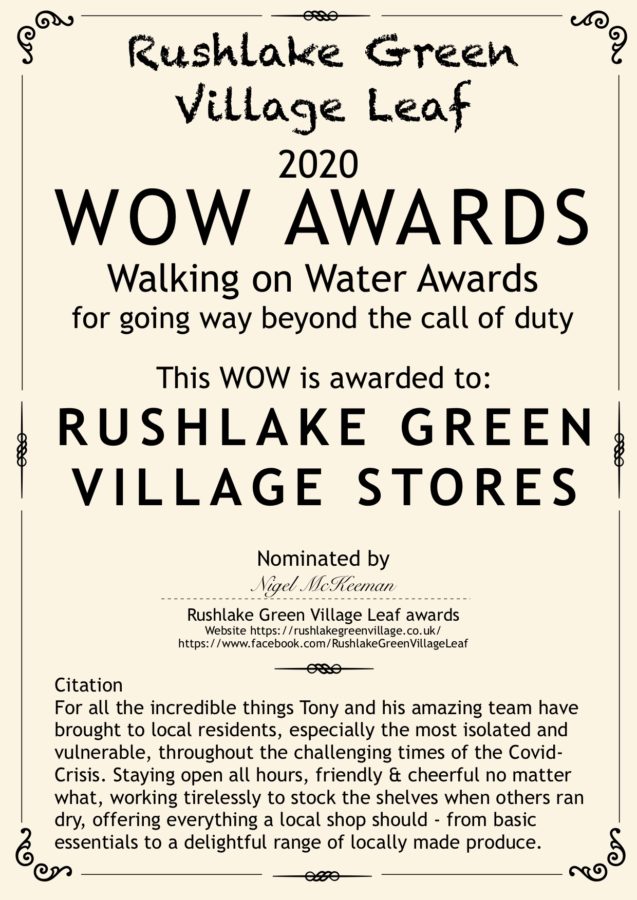 The citation reads: "For all the incredible things Tony and his amazing team have brought to local residents, especially the most isolated and vulnerable, throughout the challenging times of the Covid-Crisis. Staying open all hours, friendly & cheerful no matter what, working tirelessly to stock the shelves when others ran dry, offering everything a local shop should – from basic essentials to a delightful range of locally made produce."
And we are sure that every customer of the Village Stores will have their own story to tell, of how Tony and his team have gone way beyond the call of duty, time and again.
One of the most crucial aspects of support, throughout the Covid-Crisis, has been the dedicated work of our local Posties.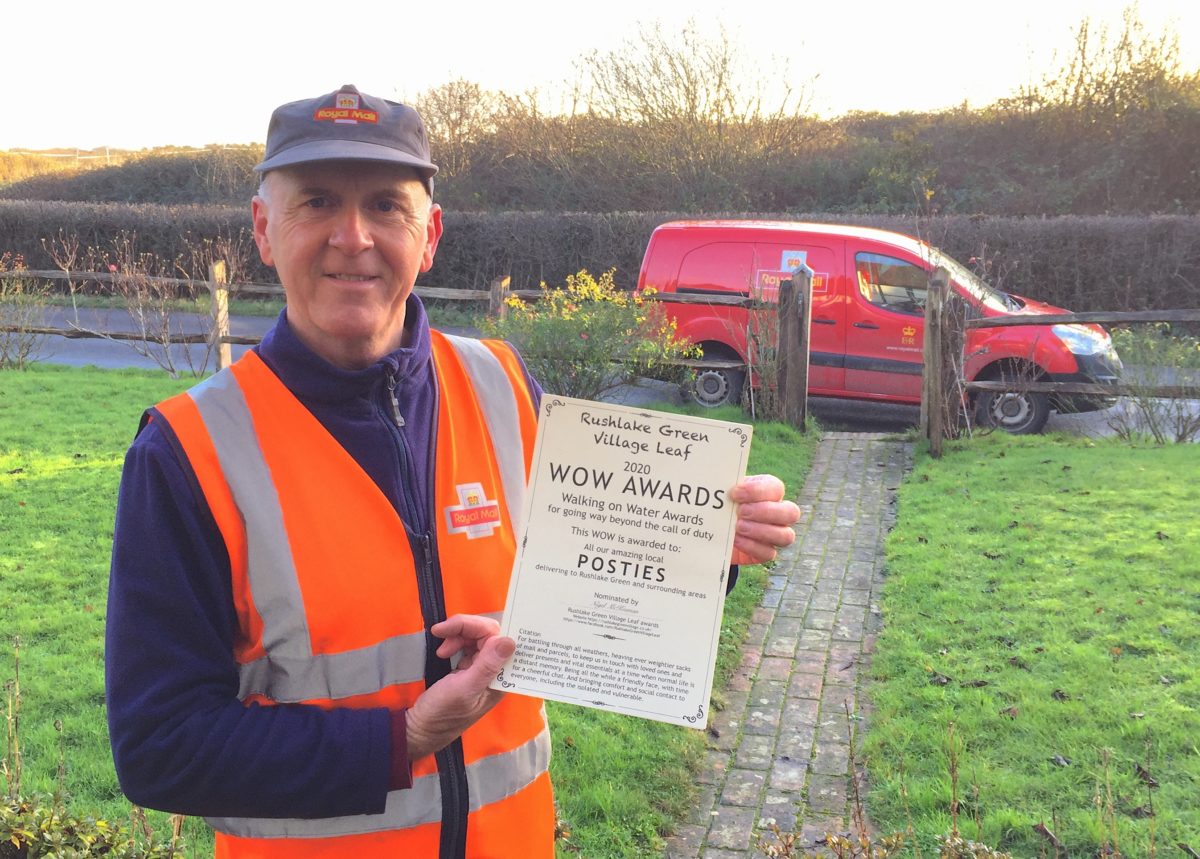 Reggie was delighted to receive awards on behalf of all the Posties that serve the areas in and around Rushlake Green, Warbleton and Bodle Street Green. Personally we can attest to Reggie's genuine interest in finding the time to have a chat, and get to know, many of those who have been largely self-isolating for many months of 2020 and will continue to do so well into next year. His friendly face, and cheerful disposition have been a ray of sunshine in a very stormy period.
The Citation reads:
"For battling through all weathers, heaving ever weightier sacks of mail and parcels, to keep us in touch with loved ones and deliver presents and vital essentials at a time when normal life is a distant memory. Being all the while a friendly face, with time for a cheerful chat. And bringing comfort and social contact to everyone, including the isolated and the vulnerable."
Many also want us to recognise the achievements of Andrea Pickett and everyone involved in the Black Shed Pop-up experiment.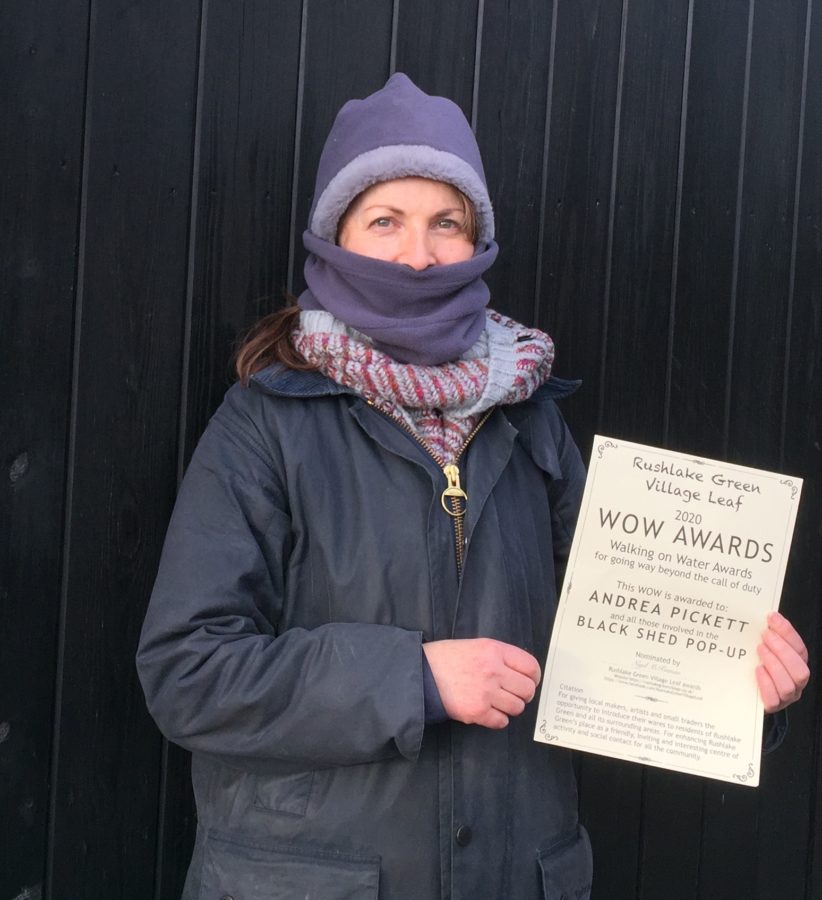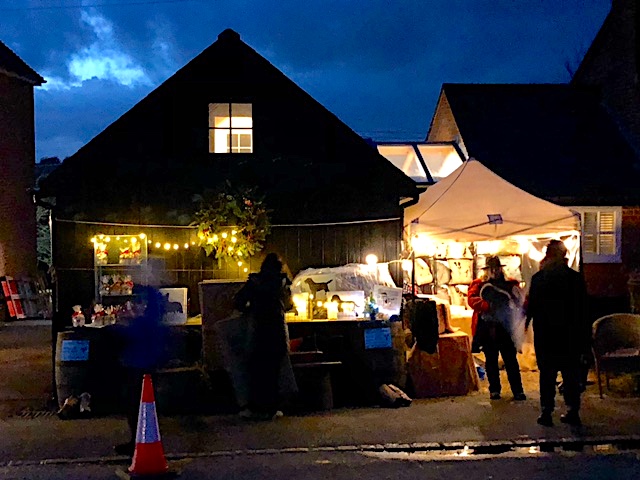 From the germ of an idea, this rapidly grew into a unique marketplace for local creative people, and a welcome local shopping opportunity for residents and visitors to the village.
The awards reads: For giving local makers, artists and small traders the opportunity to introduce their wares to residents of Rushlake Green and all its surrounding areas. For enhancing Rushlake Green's place as a friendly, inviting and interesting centre of activity and social contact for all the community.
We pay tribute to other local businesses that are exemplars for how to respond when times are tough and many people are under strain or suffering from uncertainty. We recently learned that Wildbloods Electricians in Heathfield will be offering an emergency repair helpline throughout the Christmas period. We think this is an incredibly thoughtful offer, and one that could mean many a Christmas saved from the jaws of disaster.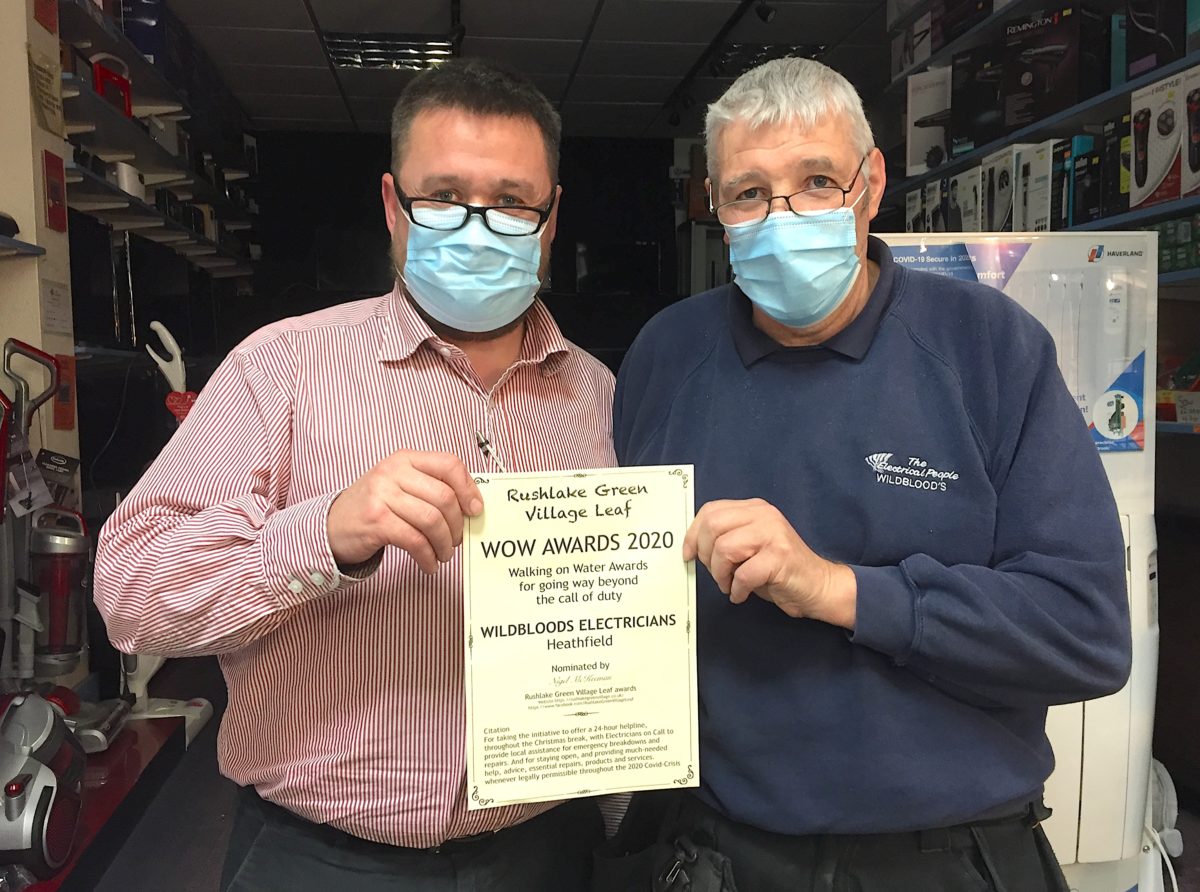 The citation reads: "For taking the initiative to offer a 24-hour helpline, throughout the Christmas break, with Electricians on Call to provide local assistance for emergency breakdowns and repairs. And for staying open, and providing much-needed help, advice, essential repairs, products and services. whenever legally permissible throughout the 2020 Covid-Crisis."
And we have just learned that, although the Wildbloods shop itself will now have to close under Tier 4 restrictions, they will from the 4th January 2021 be offering a permitted "Pre-Pay and Pick-up" service to enable customers to pay-for and collect (Covid-safely) essential electrical equipment and spares.
When we went to tell the Horam Pharmacy team we were giving them an award, customers immediately chimed in with their hearty agreement that the team really are something special.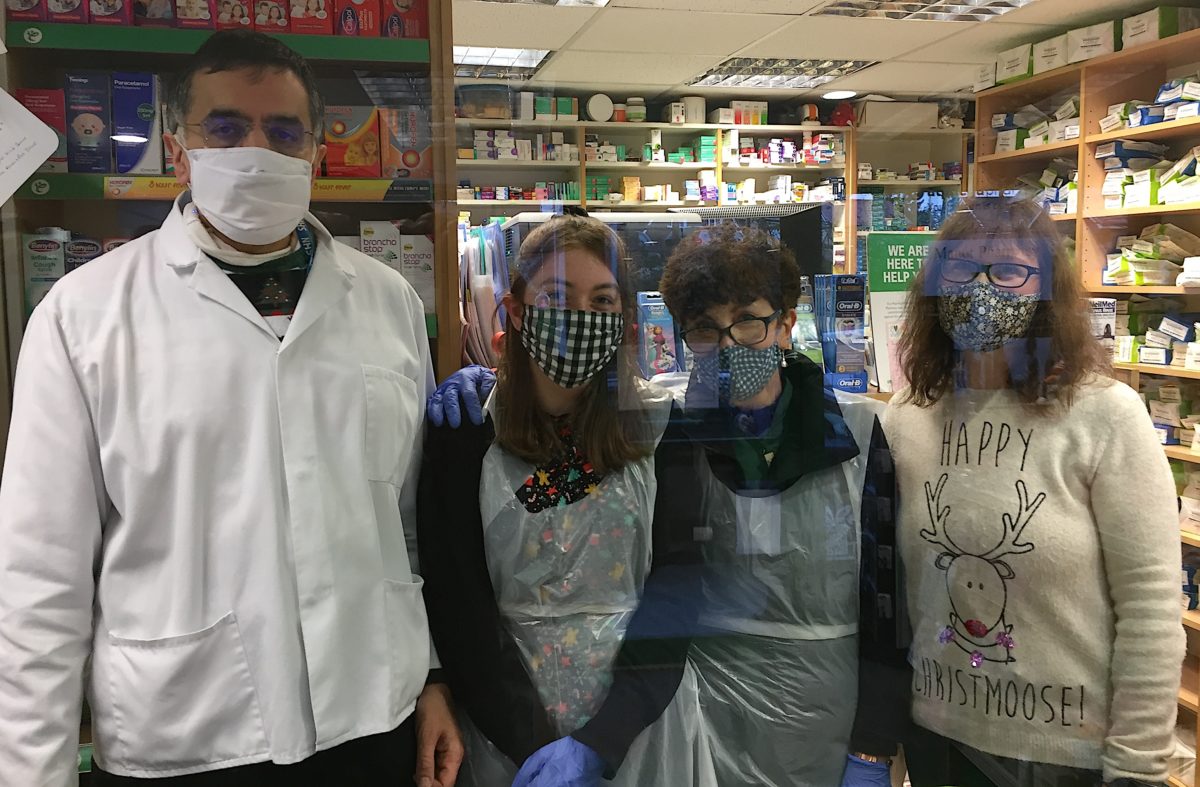 .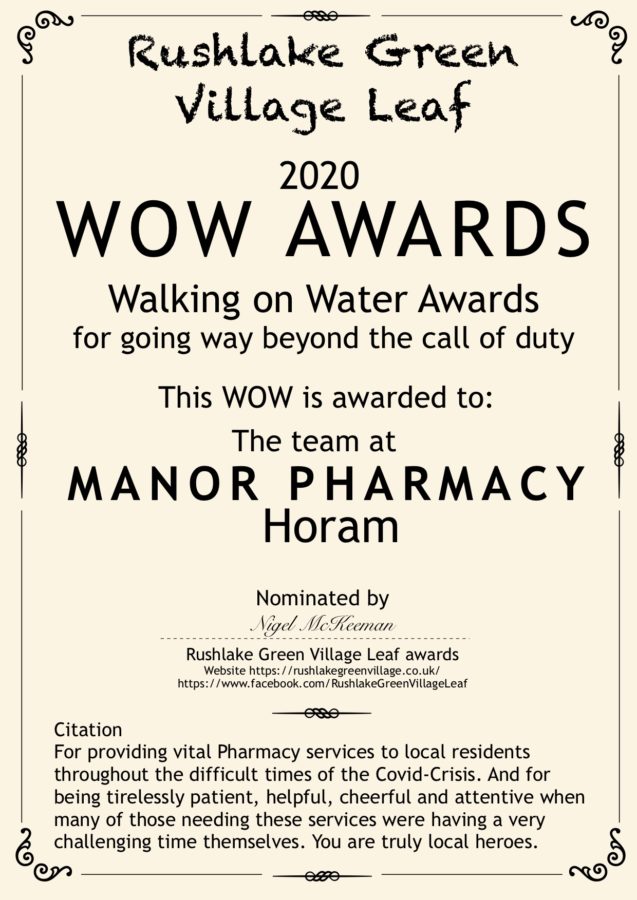 The award is:  "For providing vital Pharmacy services to local residents throughout the difficult times of the Covid-Crisis. And for being tirelessly patient, helpful, cheerful and attentive when many of those needing these services were having a very challenging time themselves. You are truly local heroes."

Tell us who you'd like to nominate.
These are just some examples of the countless individuals, groups and organisations that have gone way beyond the call of duty in support of people in their community. If you would like to make a nomination just email us with the nominee and a short citation of what they have done to deserve recognition (max 50-60 words). We will publish as many as we can, and will be happy to provide printed awards wherever practicable.  Please add your own name and contact details.
Email rushlakegreenvillage@gmail.com.