Here is an article, compiled for us by our local team of Community First Responders based in Heathfield. As we have explained previously, in the case of an emergency an ambulance may take some time (perhaps too much time) to reach someone here in distress. The volunteer First Responders, because they are based locally, will often be able to be first on the scene – providing expert care until the emergency services arrive. This article, for which we are very grateful to Tim Williams and the team at heathfield CFR, gives an insight into the role of the responders and the background to their development. This is the article:
Community First Responders (CFRs) are trained members of the public available to be contacted by the ambulance control centre to attend medical emergencies equipped with a defibrillator, oxygen and essential First Aid kit.
The Heathfield and Waldron Community First Responders were formed as a charity in 2016 to support the South East Coast Ambulance service over a wide area centred on Heathfield which now includes Mayfield and Five Ashes and extends to Warbleton and Rushlake Green. By contrast, in the USA and some other countries, 'First Responder' refers to anyone with professional training who is equipped to attend any major incident (including accidents, natural disasters or even terrorism) which in this country Community First Responders do not go to.
Amongst the earliest Public Access Defibrillators (PADs) to be installed were in the Waldron phone box (which is also a mini-library), at Mayfield Primary School TN20 6TA, in the porch of Woodhill Surgery TN20 6BW and by Five Ashes Primary School TN20 6HY. Warbleton PADs include units at The Black Duck/Warbill-in-Tun House TN21 9BD, Osborne House Rushlake Green TN21 9QL and The White Horse Bodle Street Green BN27 4RE, the Phone Box at Three Cups Corner TN21 9PB and the Punnetts Town Village Hall TN21 9DE. Heathfield Parish Council & Warbleton Parish Council have generously funded the maintenance of many local AEDs.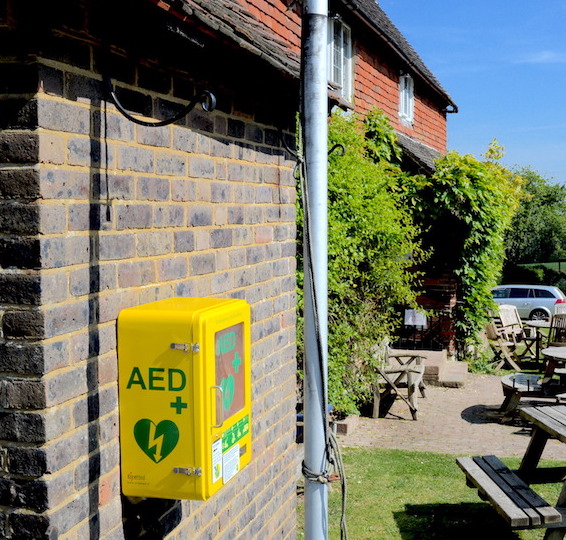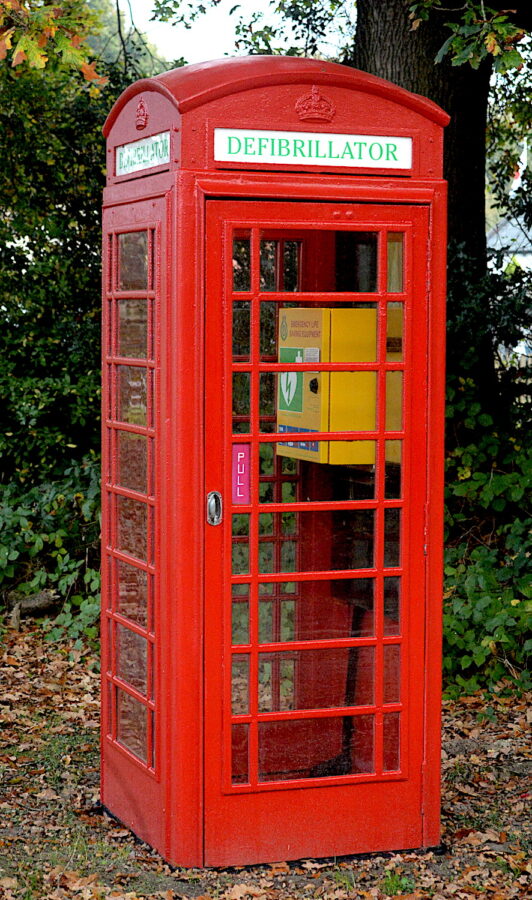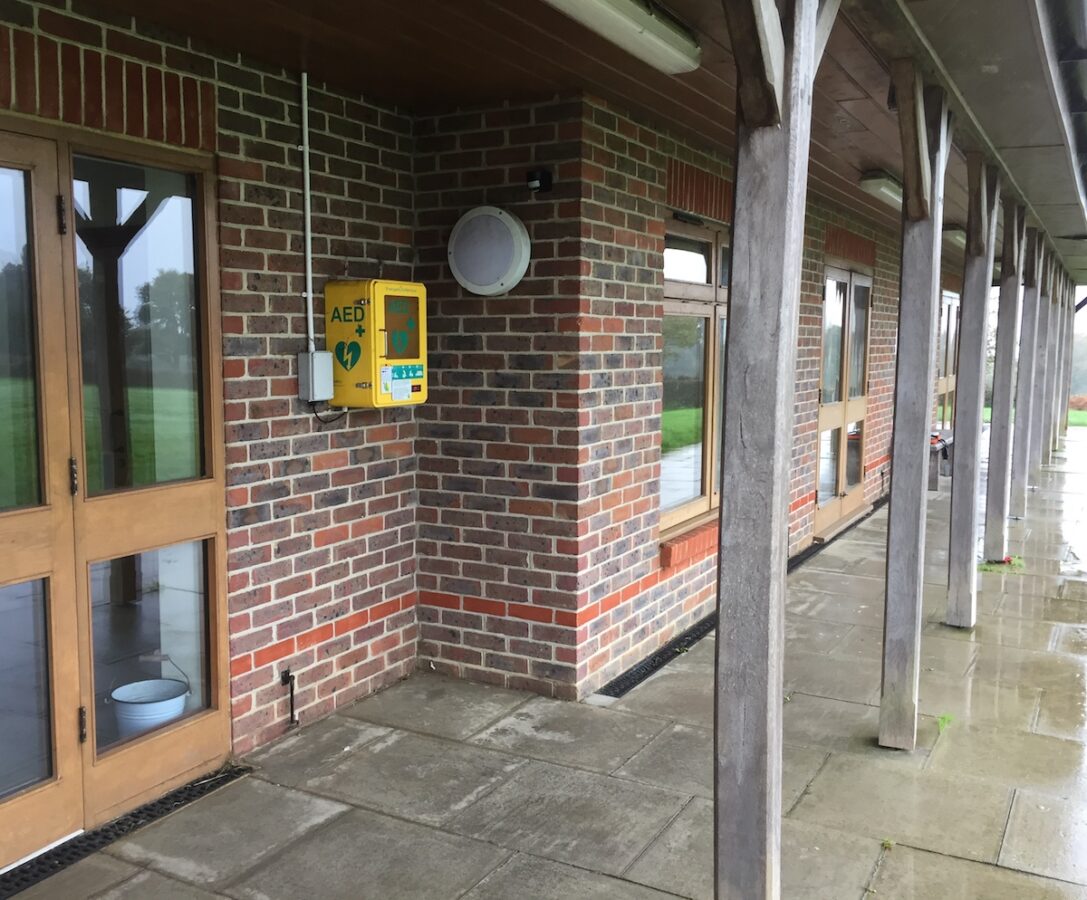 The location of most local defibrillators is given at heathfield.net/local-information. (See also the Village Leaf AED map below) 
How, in an emergency, you can help by giving CPR
More important than immediate access to a defibrillator is the knowledge and confidence to perform cardio-pulmonary resuscitation (CPR) which can keep the heart pumping and the brain alive for an hour or two, at least until trained help arrives (the sooner the better – hence the Responder scheme).
You may remember the cardiac arrest during Euro 2020 of the Danish footballer Christian Eriksen, the Press suggesting 'he died for five minutes'.  Thanks to urgent resuscitation he made such a dramatic recovery that he is returning to first-class football having had an internal pacemaker-defibrillator fitted surgically. You may also recall Fabrice Muamba whose life was saved in 2012, at White Hart Lane. Good recovery is possible, but sadly each year only 10% of the 30,000 out-of-hospital cardiac arrest victims survive. Often a cardiac arrest occurs out of the blue in apparently healthy individuals, and when they are young and have a family a fatal outcome is utterly tragic. That is why public awareness of CPR is so important, and there are many First Aid courses which teach this, including free ones laid on by the Heathfield and Waldron Community First Responders. A recent poll by Virgin Media found that while 89% of people say they'd help a stranger with a medical emergency 'no matter what', if it was a cardiac arrest less than half would feel confident performing CPR. The fear of getting it wrong was the biggest concern, with only 26% of people saying they know both how to do CPR and use a PAD (although these talk to the user once opened).
The essentials are to check immediately whether the collapsed person is unresponsive and not breathing, in which case lie them safely on their back, call for help and start CPR – a hundred firm compressions (hand on hand) a minute on the centre of the chest . This makes the heart rhythmically fill with blood and eject it into the circulation which contains enough oxygen that 'mouth-to-mouth' is not needed.  Get someone else to phone 999 (medical emergency) with the location (address or postcode). The operator can describe CPR if necessary, give the whereabouts of the nearest PAD and share the code to the cabinet (if the PAD is in a locked one). Please keep an eye on your local PADs – others have been vandalised, including one that recently saved a life.  If PADs are in an area with cctv surveillance so much the better.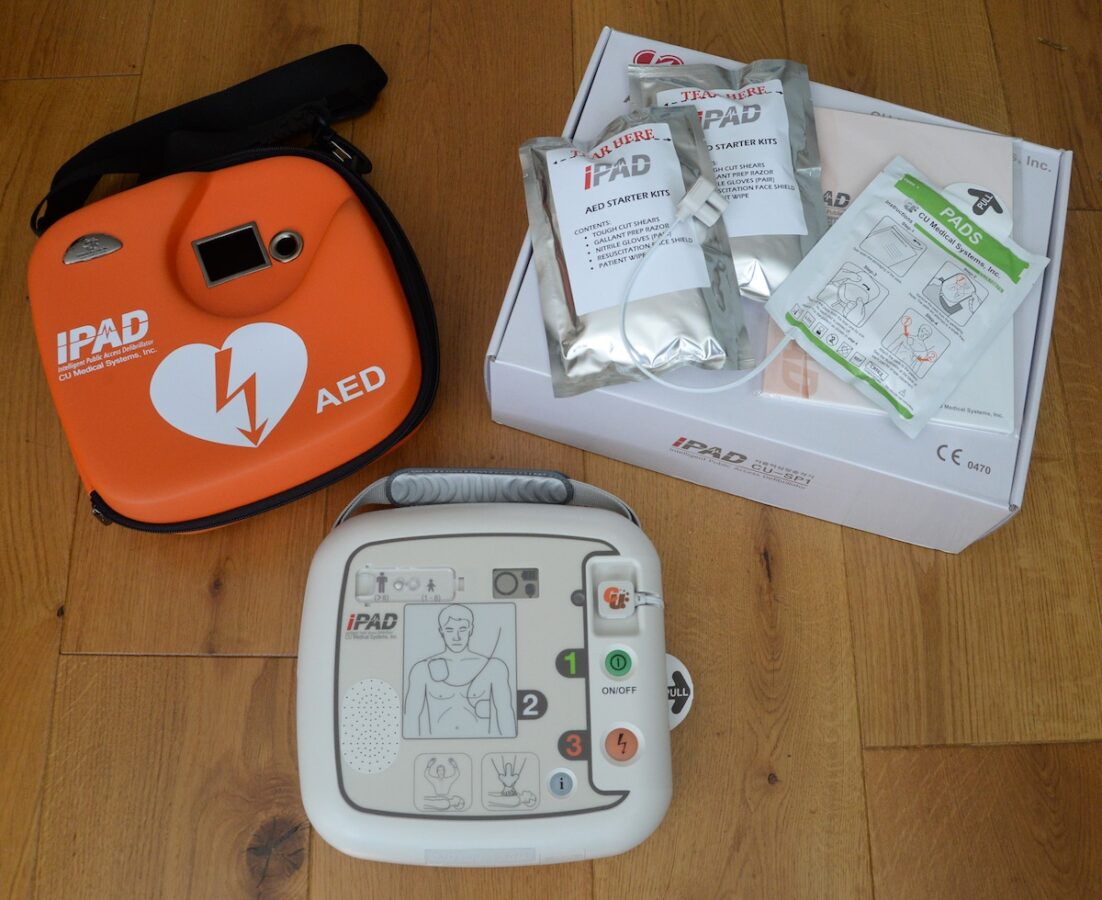 The Responders demonstrate CPR and the use of defibrillators to the public, at no charge. Where a PAD is nearby, places such as schools, shops and allotments are encouraged to learn CPR rather than install a PAD on-site, which costs £1000-£2000 and requires maintenance; nonetheless some communities like to fund them.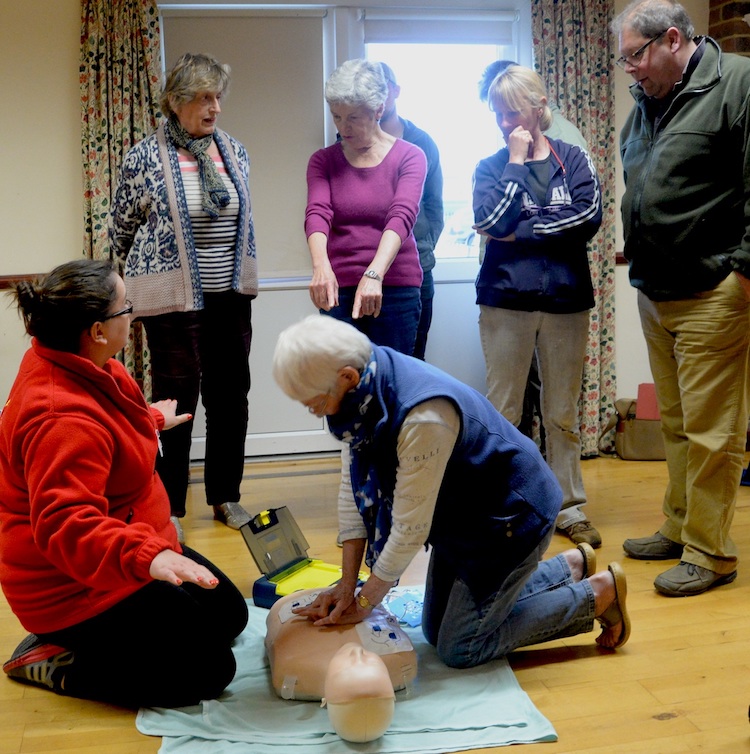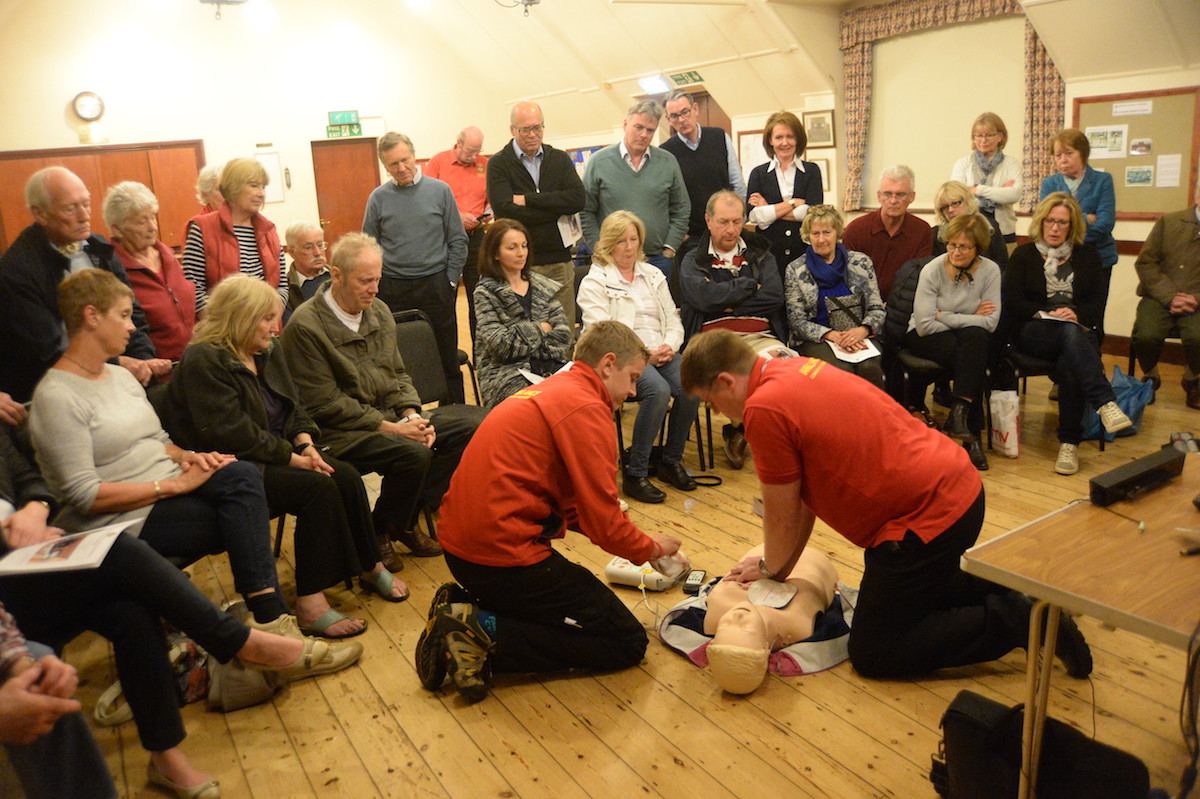 You could help by volunteering to become a Responder
Covid put the Responder scheme on hold, and currently we only have two Responders available (and would like a dozen) but hope to recruit later this year – for more details keep an eye on www.facebook.com/HeathfieldandWaldronResponders/.  The South East Coast Ambulance service (SECAmb) vets applicants then over a few weekends trains those selected. They need a clean licence, their own vehicle and to be available for a number of hours a month – there are more details on Facebook.
Responders give the community reassurance that, despite the pressures on the ambulance service, trained help is available quickly for serious medical incidents, whether life-threatening or just frightening.  Please consider enrolling as a Responder – it's a very worthwhile commitment and you may save a life.       
Where to find Local Public Access Defibrillators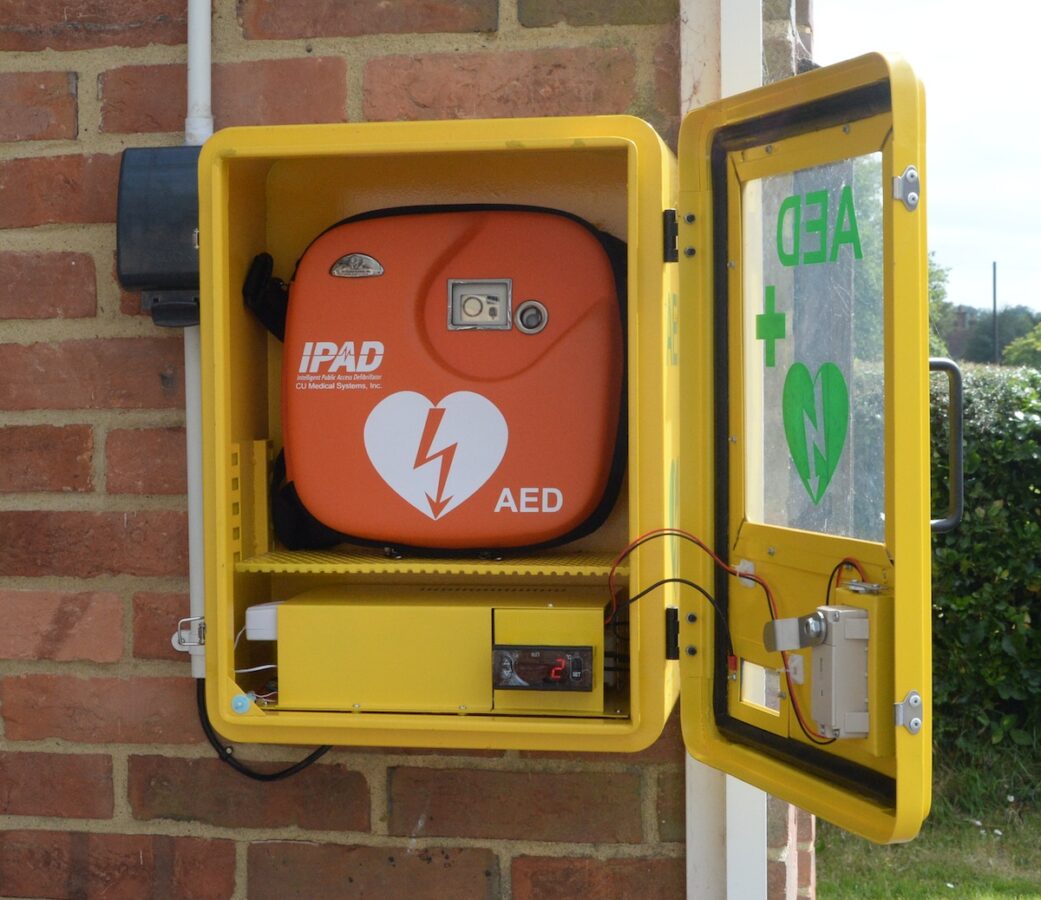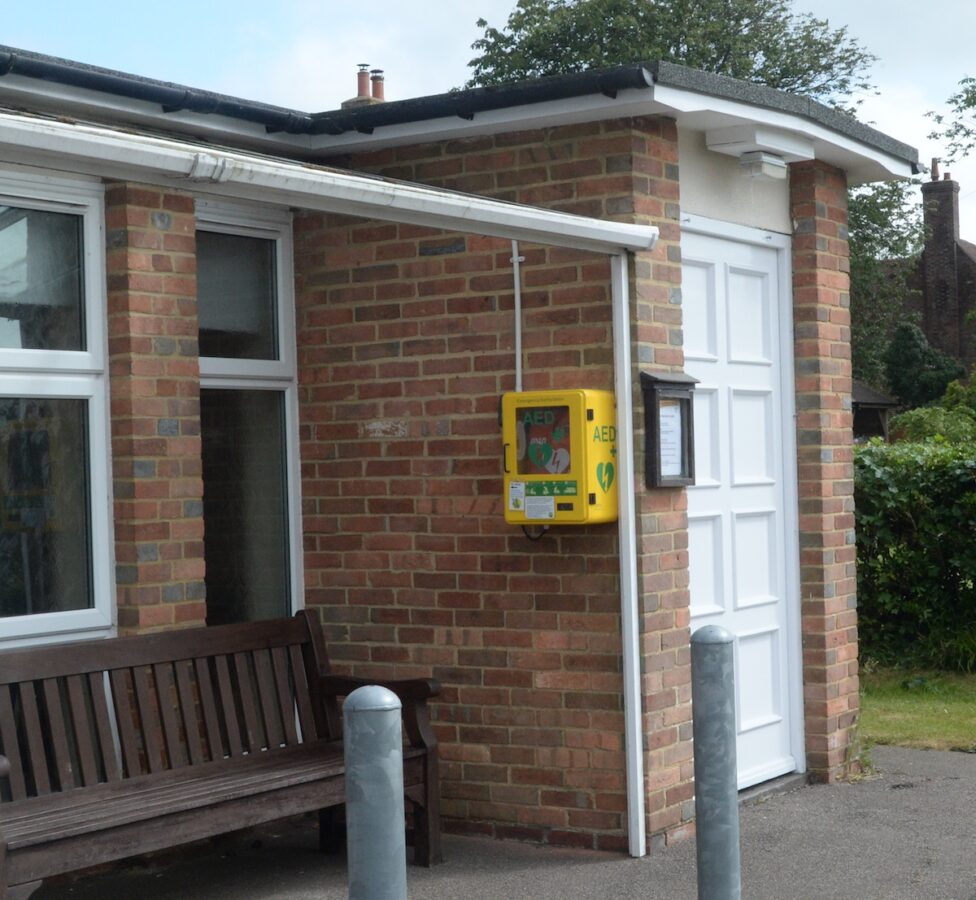 Here below is a map of the local defibrillators (AEDs) we at the Village Leaf are aware of.
You can use this map to familiarise yourself with the locations, just in case.
For more information about how our local defibrillators were installed using locally raised funds, see our previous article here on the Village Leaf: https://rushlakegreenvillage.co.uk/a-defibrillator-is-for-life/