The postponed Parish Council meeting that is now being held at 9.30am on Friday 23rd April, is the last day of the grace period to request Wealden to trigger a moratorium on the sale of the Horse & Groom. Here is a note from the group of concerned residents that is gathering together in an effort to safeguard the pub.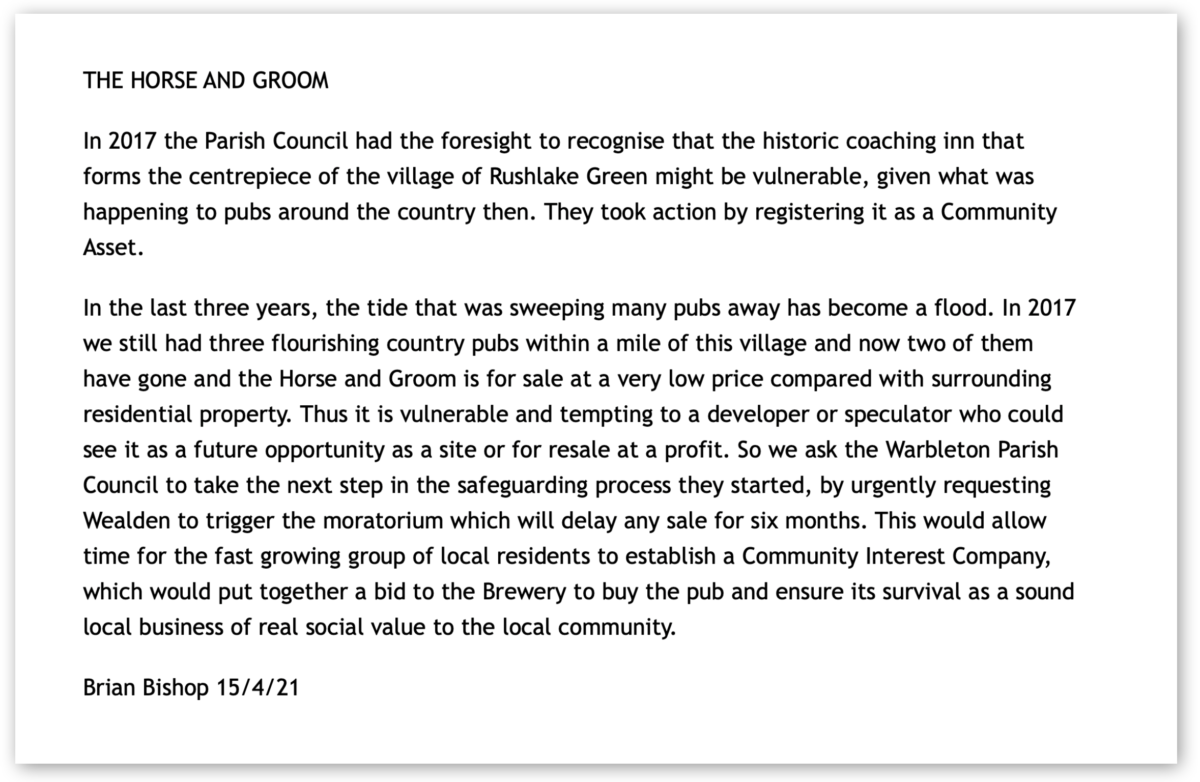 The group coordinating community support for the Horse & Groom has already received more than 40 letters and emails of support.
If you would like to contact the Group, to support their efforts to protect the pub, or for more information, you can email us here at  rushlakegreenvillage@gmail.com and we'll pass your messages on to the organising group.
If you would like to attend the Parish Council meeting at 9.30am on Friday 23rd April, when the Horse & Groom moratorium request is on the agenda for discussion, you can do so online. Due to CoVid-19 restrictions the meeting will be via zoom. If you would like to be present for the meeting you can use the link below:
Join Zoom Meeting
https://us02web.zoom.us/j/81350122697?pwd=YzYxS1d0aUp2U3drcGcrZFVpWkFCQT09
Meeting ID: 813 5012 2697
Passcode: 819260
Full agenda, and details about the meeting can be found at the Warbleton Parish Council's website:
http://www.warbletonparishcouncil.co.uk/community/warbleton-parish-council-18007/april-2021/