The Parish Council recently put out a survey to ask residents how they think the Parish's CIL money would be best spent on projects to benefit the local community. We've been talking to Cllr Celia Davies, Chair of the CIL Committee at Warbleton Parish Council (WPC), to find out more.
Q What is the Community Infrastructure Levy?

Cllr Davies tells us . . . .
The Community Infrastructure Levy (CIL) is basically a charge which can be levied by local authorities on new development in their area. It allows local authorities, in our case Wealden District Council (WDC), to collect money from developments to assist with the delivery of infrastructure that is required to support development in and around the district. Under the requirement, 15% of the CIL collected as a result of development is passed to the relevant Town/ Parish Councils in the area. They call this the 'meaningful proportion'.
Q What kind of things can it be spent on?
CIL can only be spent on certain items according to regulations.  These CIL regulations are designed to support the development of local area funding for the provision, improvement, replacement, operation or maintenance of infrastructure or anything else that is concerned with addressing the demands that development places on an area. At District Council level this might include for example: sports and recreational facilities; transport improvements; signage; cycleways; footpaths; village halls; open spaces and lighting. At parish level this is a little more flexible, and we can focus in on local community needs.
We carried out the Parish Community Survey as we wanted to directly ask our Warbleton Parish community how they would like to see the Community Infrastructure Levy (CIL) funds allocated over the coming years.
Q What were the priorities favoured by the community?
The top three priorities favoured by the community were:
First – Finger Post Repair Maintenance of notice boards, fingerposts and benches.
Second – Create a Warbleton Parish walking & cycling routes map in partnership with local community organisations and local council to promote health and well-being
Third – Install electric car charging points at strategic locations in the Parish to support greener energy use
Q What's the plan for each of these priorities?
Since the findings of the survey were reviewed earlier this year, we've been working on the communities favoured priorities.
CIL PRIORITIES

1) FINGER POST REPAIR MAINTENANCE OF NOTICE BOARDS, FINGERPOSTS AND BENCHES.
Firstly, we've carried out an audit of the fingerposts in the parish and assessed the need for repair or replacement. We identified finger posts at Kingsley Hill/Chapmans Town Road, North Road/Causeway (White Horse), Sandhill Lane/Bodle Street Road and Padgham Lane/Churches Green Lane as needing urgent attention.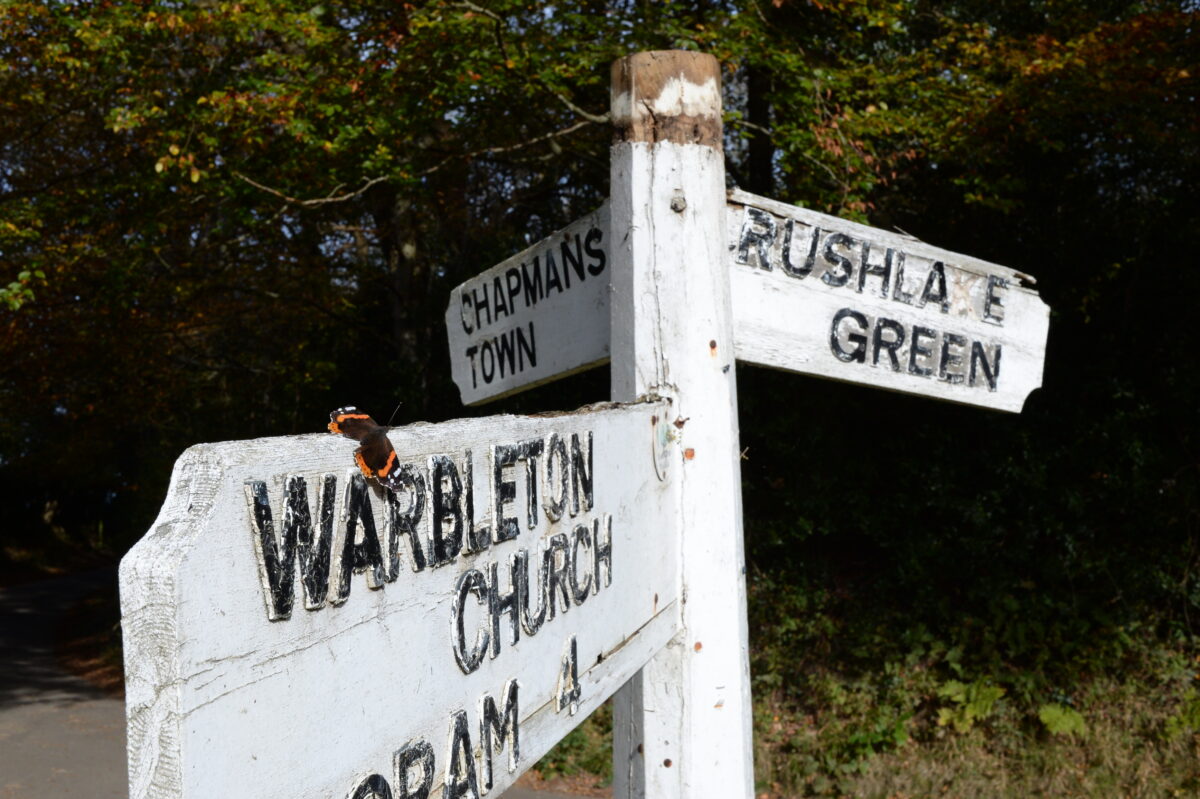 The costs for these were covered by CIL with match funding from East Sussex County Council (ESCC). Work on these will complete by the end of 2021. We will continue to review the condition of all the finger posts in the parish each spring, (to coincide with the beginning of the financial year). We can then prioritise repair or replacement on a regular basis.
Also, the Parish Council notice board at Bodle Street Green village was in a poor condition and has since been replaced with a new one next to the front door of the village hall.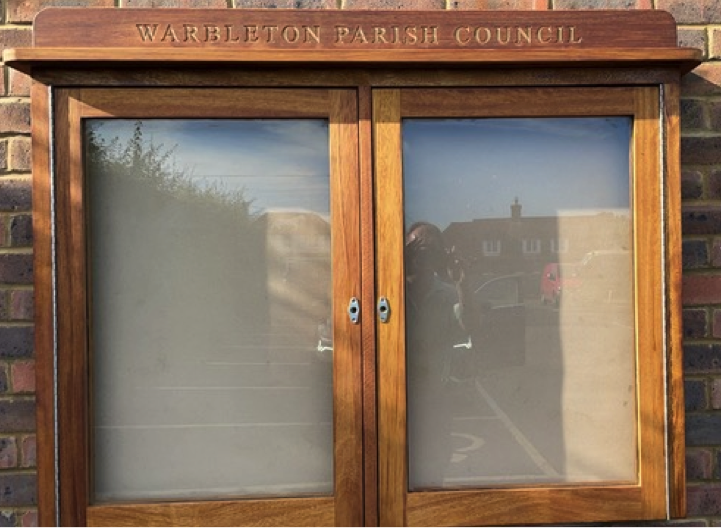 We continue to repair and replace benches. A local resident, David Bysouth (who has since sadly passed away), donated a bench to the parish. As agreed with Mr Bysouth, the bench will be located on the cross roads of Black Down Lane and Forest Lane in Punnetts Town.  The cost of installation and associated licence fees are being shared between Warbleton and Heathfield & Waldron Parish Councils.
2) WALKING MAP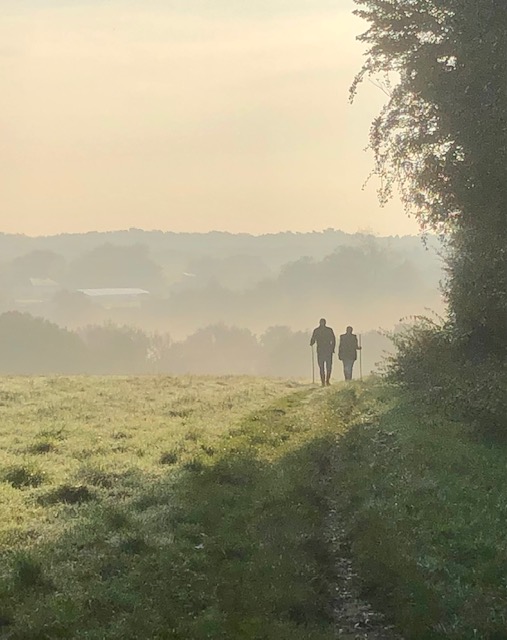 (Photo by Ian Collett)

This was the second choice in the community survey on CIL spend. The planning for this is underway. It will include information on local walks, flora and fauna and promote local independent stores and public houses. Local conservation groups are also being contacted. We are looking at the viability of it being available both in print and as a digital version. The plan is to have this ready for early Summer 2022. If anyone has any favourite walking routes they'd like to recommend, we'd love to hear about them. Contact us at warbletonparishcouncil@gmail.com
3) LOCAL ELECTRIC VEHICLE (EV) CHARGERS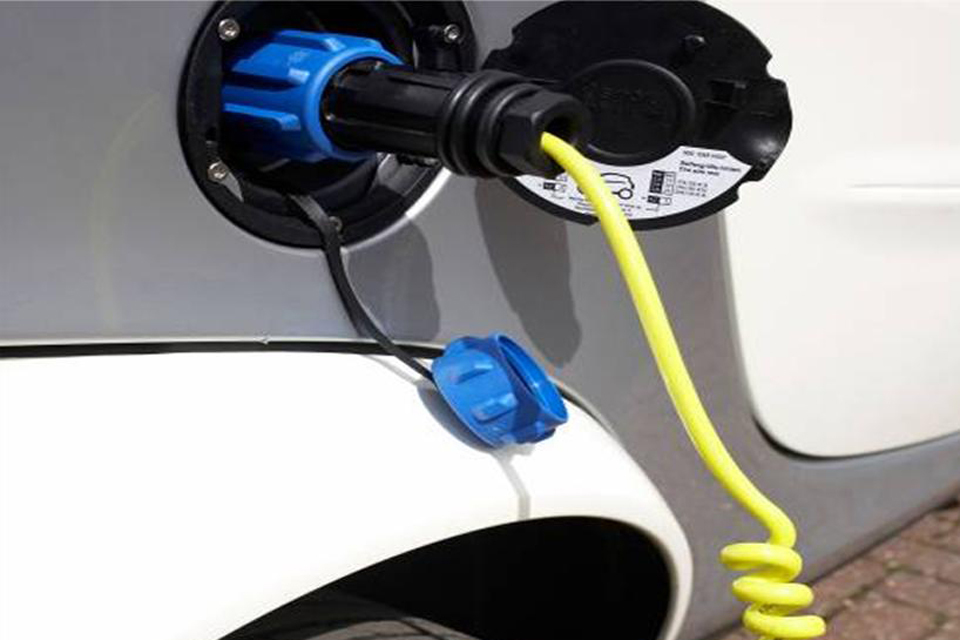 This was the third choice in the community survey on CIL spend. This may take longer to implement as it relies on us working closely with Wealden District Council. We are awaiting an update on the tender process at Wealden District Council to see which contractor will be appointed to install EV chargers in the Wealden area and if there is any current allocation for these within the Warbleton parish. We'll await this outcome as it will inform any installation, management and maintenance for EV chargers in WPC area and hopefully best value for money too for us. We are also requesting information on any grants that might be available for us to apply for and match funds with from CIL.  We want to ensure Warbleton as a place for working, living or visiting, is well served with such faculties in the future, and does not get left behind.
Traffic Survey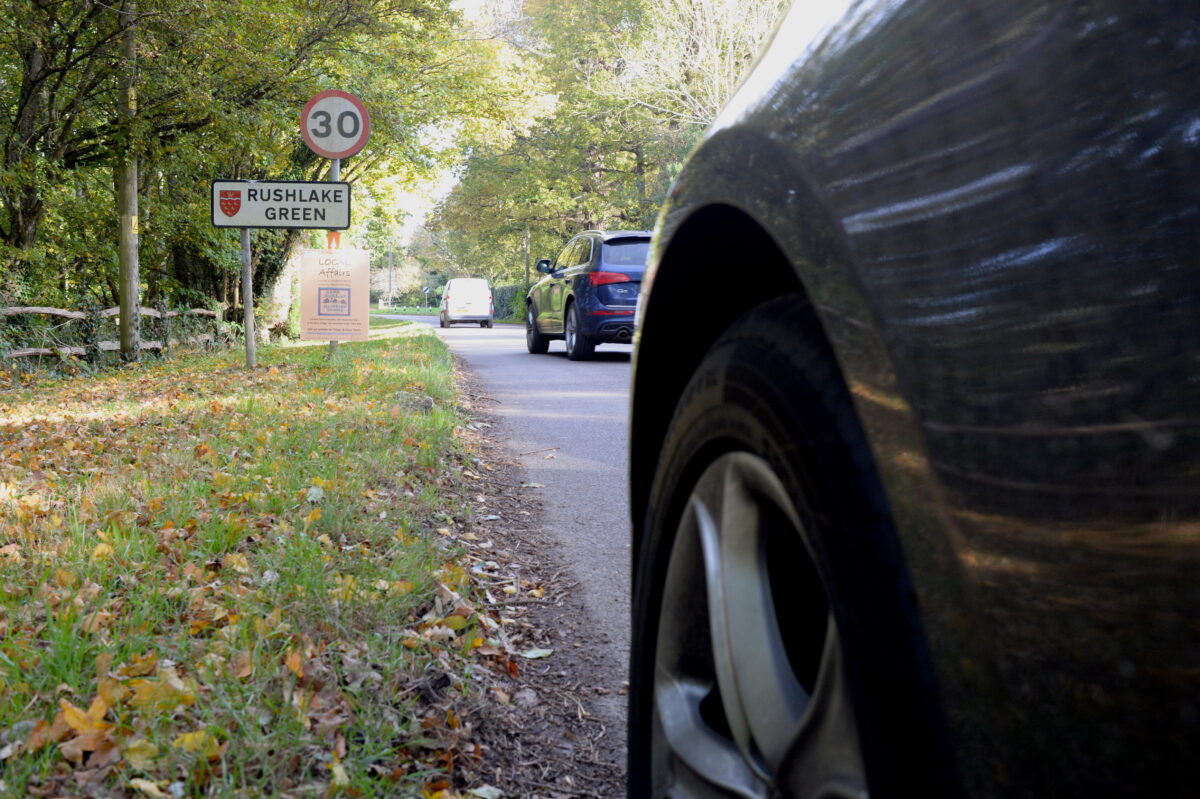 The fourth choice in the recent community survey on CIL spend. We've since agreed to commission a traffic survey from East Sussex Highways for both Rushlake Green and also Bodle Street Green. The costs of a temporary 7-day speed and volume survey in each village will be covered by CIL funds. The findings of these surveys will be essential for our discussions with East Sussex Highways, as they will assist in quantifying the traffic challenges in the two villages. The Parish clerk will now make arrangements to put this in place.
Other initiatives supported locally
We're also working towards other items people favoured in the survey, such as considering more picnic benches on the green, in Rushlake Green, for people to enjoy. This is on the agenda for our next CIL meeting in February 2022.
Q: How will people be able to follow progress with these projects?
The more detailed progress on all these projects will be discussed at CIL meetings, which take place quarterly. There is a formal process we have to follow as a Parish Council which involves voting on resolutions at meetings.  The community are invited to attend any meeting and have an opportunity to give their view on any item on the agenda when public participation is also on the agenda. Public participation is on every CIL agenda. Added to this, the public can also speak at any full council meeting when public participation is on that agenda too. If you have a questions or a perspective you'd like to share, we'd be interested to hear it.
All agendas and minutes from our meetings are posted on the website which is updated regularly. You can also receive updates and find out more by signing up to our email alerts and visit our website warbletonparishcouncil.co.uk
Q: Will there be more consultation as the CIL projects' progress?
Our meetings will be the main place to put forward your views on what we're doing. With reference to the electric vehicle chargers in particular, as we proceed we'll need to identify the most viable and useful public places to site the chargers. To do this, we'll need to liaise with Wealden District Council, the chosen contractor and of course take on any ideas for locations the local community might have too. We'll be discussing this at CIL meetings over the coming year.
Q: Will there be another survey next year for any new CIL money that becomes available?
We have not agreed this formally yet, but I'd envisage that we should do a survey every 3 years. This gives us a realistic timeframe to gain the insight, implement the plans and get the match-funding, wherever possible, for the more expensive items. This way our CIL funds go even further and achieve more impact. This timeframe also gives us an opportunity to review what's been achieved and what feels salient to tackle next. What's important is that through the CIL survey we now have a strong steer on what the community would like to see happen.
Q: Where can people find more information?
There's a page, about the Parish Community Survey, on the WPC website.
It can be found through the link on the home page, or you can use this link here
Full survey results can be seen here
Sign up for Warbleton Parish Council email alerts here
To find out more about CIL guidance for Parish Councils here