Happy Easter Everyone!
Well I am sure you have seen the advert in The Rushlake Green Village Stores for the community event on Sunday 24 April at Bodle Street Green Village Hall and car park area.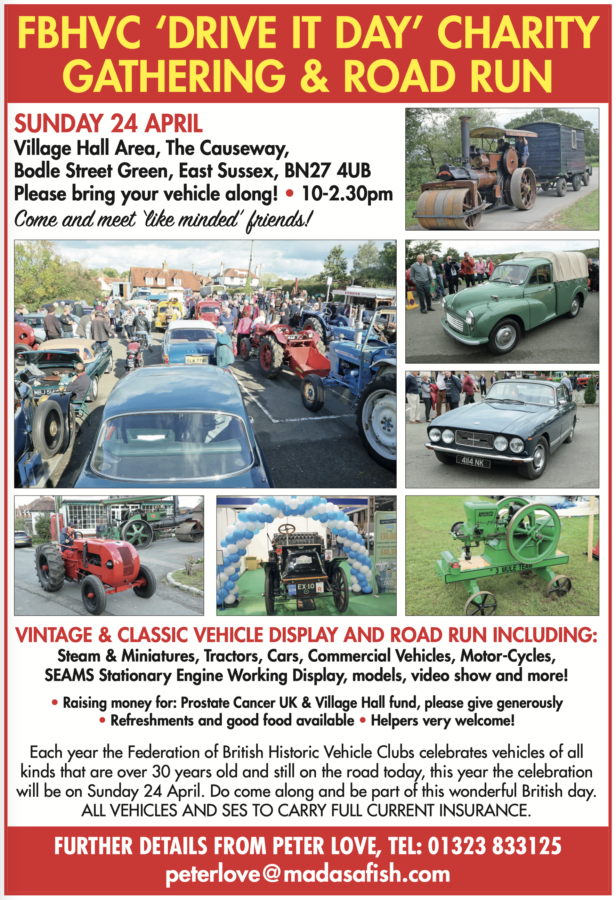 I have wanted to stage this event for some years, but various things have got in the way, particularly Covid of course. The objective is to raise money for Prostate Cancer UK and the DEC Ukraine Humanitarian Appeal, plus enjoy the vintage and classic vehicles that I hope will be attending from 10am-2.30pm. Remembering we raised £6,000 for Prostate Cancer from my 2017 65th birthday event here. 
It all happens on 'National Drive It Day', which was first created by the Federation of British Historic Vehicle Clubs in 2005. This organisation is the one the Government talks with regarding road legislation for all antique road vehicles from steam to tractors, cars, commercials, motor-cycles and stationary engines.
Sunday 24 April is the occasion when historic vehicle enthusiasts and the public at large, have the opportunity to celebrate the 'One Thousand Mile Trial' organised in 1900 to prove the viability of the new invention, the motor vehicle.  It's also a chance to raise awareness and support amongst the public for the historic vehicle movement and keep transport heritage on UK roads.
With this in mind, I have arranged for vintage and classic steam, tractors, cars, commercials, stationary engines and motor-cycles to be at the 'Gathering.'  There will be a road run for tractors in the morning and one for cars in the afternoon. It's very much a trial and error type of affair. If you have a vehicle over 25 years old please bring it along, the more the merrier I say.
Morna Cox's well known 'top class' food bar will be here all the way through the event, serving breakfast and lunch options, with a vegetarian element in there too. Morna will also have a drinks bar here as well. On top of that, I have a vegetarian cake stand coming as well.
In the village hall we will have two scale model railways for the children, an agricultural film show for education and well known agricultural photographer Kim Parks will be having a stand displaying his work as well. 
There will be a full commentary throughout this event, brought to you by well known vehicle commentator David Vaughan and former Speedworth commentator Alan Cullen, whose Weald of Power members will be bringing their stationary engines; I will also join in when needed.  As this is a community event, do please come and join in the fun.  
However, I cannot do it on my own, so I'm asking for help please! Whether it's to act as a marshal, or raffle ticket seller, the more of you that could give me some time and offer your services, the more chance we have of raising a substantial amount of money to these deserving charities. 
Please note that you all come and participate at your own risk and do remember there will be vehicles moving about at times, so take care. 
Thank you
Peter Love.
Tel: 01323 833125 – peterlove@madasafish.com
Many thanks to Peter Love for providing this article. 
Peter is the founder of various mainstream magazines, including Tractor & Machinery, Classic Tractor, Classic and Vintage Commercials, Ford and Fordson Tractors and many others which can be bought from Rushlake Green Village Stores. Today he is editor of Old Glory magazine and is Kelsey Media Editor at Large. He also writes each month in South East Farmer, Farm Machinery section, Tractor & Machinery, Classic Massey & Ferguson Heritage, Ford and Fordson Tractors, Tractor & Farming Heritage, Classics Car Monthly and others. Peter also edits the Allard Owners Club magazine Tailwagger. He has written 30 books and is the founder member of various vintage vehicle clubs.
If you have an article you'd like to appear in the Village Leaf please email rushlakegreenvillage@gmail.com