Voluntary help and support continues to a vital ingredient in alleviating the impact of the Covid-19 outbreak. Rushlake Green resident Bill Philps, who in normal times is one of the drivers for a local voluntary bus service for older people, has been helping a St Wilfrid's Hospice patient to re-discover his life history. The following story is reproduced from a piece that featured recently in the Eastbourne Herald.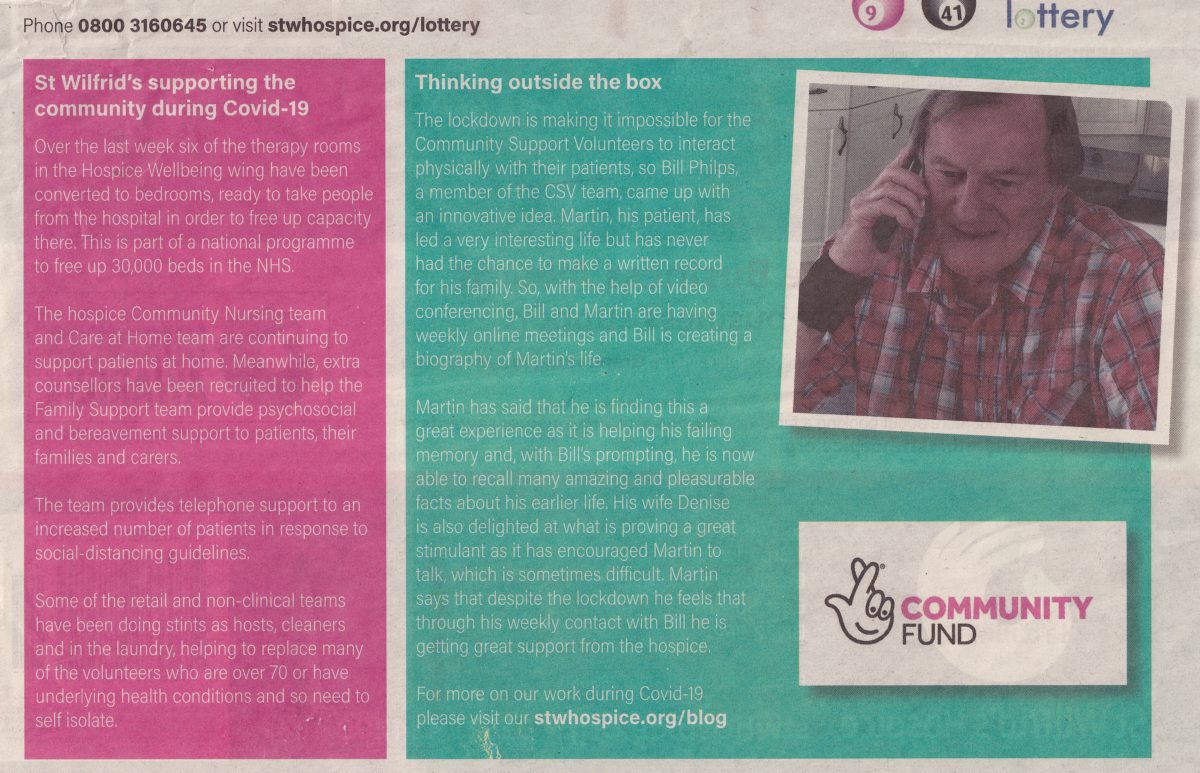 St Wilfrid's supporting the Community During Covid-19
Over the last week, six of the therapy rooms in the Hospice Wellbeing wing have been converted to bedrooms ready to take people from the hospital, in order to free up capacity there. This is part of the national programme to free up 30,000 beds in the NHS. The Hospice Community Nursing team and Care Home team are continuing to support patients at home. Meanwhile, extra counsellors have been recruited to help the Family Support team provide psychosocial and bereavement support to patients, their families and carers. The team provides telephone support to an increase number of patients in response to social-distancing guidelines. Some the retail and non-clinical teams have been doing stints as hosts, cleaners and in the laundry, helping replace many of the volunteers who are over 70 or have underlying health conditions and so need to self-isolate.
Thinking outside the box
The lockdown is making it impossible for the Community Support Volunteers (CSV) to interact physically with their patients so Bill Philps, a member of the CSV team, came up with an innovative idea. Martin, his patient, has led a very interesting life but has never had the chance of making a written record for his family. So, with the help of videoconferencing, Bill and Martin are having weekly online meeting and Bill is creating a biography of Martin's life. Martin has said that he finds this a great experience as it is helping his failing memory and, with Bill's prompting, he is now able to recall many amazing and pleasurable facts about his early life. His wife Denise is aso delighted at what is proving a great stimulant as it has encourage Martin to talk, which is sometime difficult. Martin says that despite the lockdown he feels that through the weekly contact with Bill he is getting great support from the Hospice.
Volunteers welcome
If you are interested in becoming a telephone befriender please go to this link where you can express an interest in the role: https://www.stwhospice.org/telephone-befriending-volunteer'  
The above piece is reproduced with permission from St Wilfrid's and all those involved in the story.
In this week's Eastbourne Gazette, there has been more coverage of the work of volunteers: