This year's Big Lunch on Rushlake Green will be on Sunday 2nd June 2019, from 12.00 noon. It's free. Just bring a picnic and chairs. Please get your Free Tickets from the Village Stores or the Horse & Groom, so that the organisers can have an estimate of numbers in advance. Tables are provided. The road will be closed for the celebrations.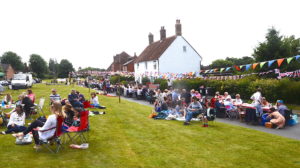 Everyone is welcome to attend, bringing their own food, with plenty of room on the long table, which will stretch from beside the Village Stores to the front wall of the Horse & Groom.
Live entertainment will include: 'Nothing is Real' (a big hit at last years 'Sounds of the Sixties' gig), the Warbleton Brass Band, David Logan on accordion; Tug of War, Scarecrow Competition, and the magnificent Classic Vehicles Show on the green. There will be vintage tractors taking part in the classic vehicle display this year for the first time.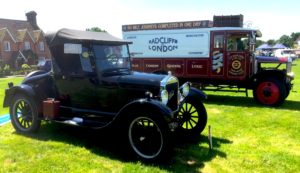 The Scarecrow Competition is another new idea which should be a bit of fun. The team already have quite a few promised from local groups and organisations each themed to their subject – they're hoping for some wacky and creative ideas!
Tickets are free, and available from the Village Stores and the Horse & Groom now.